Hi. I've had a 2002 Hymer Classic B584 for a season and fitted solar to it. I'm fairly competent mechanically and technically, but the finer points of electrics are not something I do often enough to warrant learning it.
My Hymer has an EBL 99 (capable of 10 Amps solar & 16 Amps alternator charging I think). I installed 200 watts of solar through a Votronic Duo Digital 250 (with temp lead & LCD display), but direct from Votronic to the Yuasa EFB-36 100Ah leisure battery (LB). I did this rather than connect it via the EBL because the solar limit of the EBL is 10 amps. The spec's of the 2 panels combined showed just over 11 amps max (but as it is I could have done it as they didn't get near that). Anyway it all seems to have worked fine, though the 12 volts on my 3 way fridge did finally die, but I think that was just coincidence. 4 months of a long hot summer were too much for it.
I had the AES control from the Votronic solar controller connected to the fridge. This signals the fridge to run off the LB when there is excess solar power. It would only ever run like that for a few minutes - maybe 5 mins max (drawing 10 amps). I do wonder if bypassing the EBL could have caused trouble? Could that have over powered the fridge control panel? But surely that's no different to when you're driving and it's running off the alternator, or would the fridge have better voltage control coming via the EBL? The Votronic's max solar charge voltage is 14.4. If that went through to the fridge could that have cooked the control panel?
The fridge is not economic to fix mostly because the suspected faulty part (the main control panel & front panel - Dometic RM6405) is unavailable. Yes, I (and a motorhome repair bloke) have looked into all possibilities, but it's a no go. Besides that, it was pretty rubbish last summer in 25-37 degrees. The space is under bench and has an upper and lower vent to outside.
Right, so I'm looking at about £1000 for supply and fit of a new 3 way. That (and better fridge performance) got me thinking of a compressor fridge - either 12 volt, or 240 volt via inverter, with an extra solar system to drive it.
My thinking is rather than enlarge the current solar system, which runs all the usual leisure stuff, I'd install a separate system just to run the fridge. A couple of reasons - to save replacing stuff which is installed and working, and a bigger system would most likely be beyond the capacity of the existing EBL/vehicle charging system.
I'm thinking:
200 watts fixed solar (possibly 100-200 portable as well for inclement weather)
Votronic Duo Digital 430 solar controller (with LCD display and temp lead)
Votronic 30A B2B charger (with LCD display near driver seat)
Yuasa EFB-36 100Ah battery (possibly two)
Victron mains charger 30A 3 outlet (already have this)
12 volt compressor -
Isotherm Freeline 115 Elegance £799
CRUISE large fridges stand for perfect temperatures for your drinks and food and come with Classic, INOX or Elegance style.

www.indelwebastomarine.com
A really nice spec, low amp fridge. The freezer only goes down to -8, but that's enough for my use.
267 watts per 24 hour @ 25 degrees = 22.25 ah per day
Total cost including fridge and 2 batteries/200 watts solar £1830!
or
a standard domestic 240 volt fridge that'll fit in the space, run via Victron Phoenix inverter as I already have a 500VA one, but may get a 250VA one, if that'd run it. These can run in 'eco mode' using less standby power. The eco mode might work for a fridge. Or there's a technique to wire an inverter up to the fridge thermometer so there is no standby draw (need to look into that).
The new Compact Refrigerator of 98L capacity, offers greater & higher performance, low frost and better energy savings. Comes with 4 star freezer & many more features!

www.inventorappliances.com
£105 A++ Not sure of the power usage. They state 0.36 kWh per day @ 240 volts I can't work out the equivalent in DC.
You can remove the top which may gain enough to fit it in. What I'm not sure about with a domestic fridge is do they use the sides/top to expel heat or would the existing vents in my Hymer (at top & bottom rear of fridge space) be ok to cool it (possibly with extra fans)? All the installation instructions for house fridges require space all round but that's assuming being installed in an unvented space/room. If you just ventilate the rear, where the compressor is, to the outside, is that ok?
Older style fridges have a cooling 'radiator' panel on the back, but more modern ones seem to only have a small opening around the compressor.
Total for 240 volt fridge including fridge and 2 batteries/200 watts solar about £1200. A lot less than 12 volt. Even to allow for inverter losses so bigger solar that is a big difference.
I'd also thought of putting a switch like this in between fridge and batteries (the new setup and the existing leisure one) so I could pick which solar setup (battery) supplied the fridge. Just in case I ran the fridge solar too low, but still had reserve in the standard LB.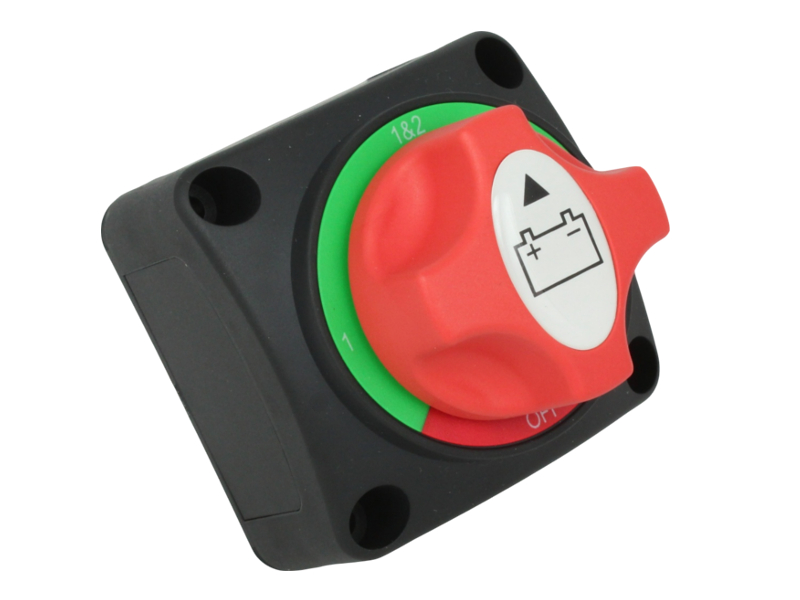 4 position marine battery isolator / changeover / master switch for boats, cars & other vehicles. 100A continuous, 500A for 5 secs.
Last edited: