Our Hobby has 16'' steel wheels and in common with many we had the solid type hub caps fitted. You know the ones, deep dished and with five cosmetic ''chrome wheel nuts''. Well, our van was serviced last week the garage broke one of them and replaced four of them with these.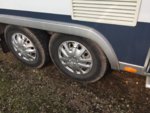 https://www.ebay.co.uk/itm/Ring-Gyro-16-Inch-16-Wheel-Trims-Hub-Caps-Universal-Fit-Set-of-4-Trims/141205011347?ssPageName=STRK:MEBIDX:IT&_trksid=p2057872.m2749.l2649
So i got hold of another set to match all six wheels. We'll see if they're less brittle than the other ones.
Cheers
H