Planning a bumble from Calais down towards Strasburg ish and back generally avoiding cities and people and keeping to ourselves (we're known for our sociability!
). Avoiding Belgium, Austria and probably Germany at this rate.
We have Park4Night & Campercontact, and will just bumble around and explorer smaller places, and do small walks or bike rides (road or mountain bike trails).
Found things like well rated permitted overnight spots next to lakes with village nearby for beer/food and 40km bike ride around lake - sounds great! But was just a random data point.
So thought we'd ask does anyone know of similar gems in this area? Either drive bys, quick explores, or overnights?
(Our usual French hunting ground is normally specific - so this area we've only just touched on the big places)
Thanks!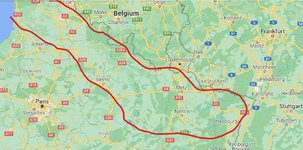 (The 40km lakeside place is
https://park4night.com/fr/lieu/475/...rance/marne/Aire-CC-stat.-gratuit#prettyPhoto
but there are 10+ well rated spots around the lake and vicinity)
Last edited: