NO ARRIVALS BEFORE MIDDAY ON THURSDAY 20TH AUGUST PLEASE
The Motorhomer Annual Rally 2020 will be held between 20th and 25th of August at Stratford-upon-Avon Race Course.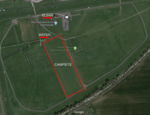 The cost will be £12 per van per night which I think is great value for August in Stratford-upon-Avon.
Parking is on the grass. There is no Electric Hookup available on the site.
ONLY water, ELSAN and rubbish disposal will be provided. There are no toilets or showers so your motorhome must be self-contained.
There will be no fire provided or other group activities.
Dogs are allowed on site but must be kept under control at all times and are not allowed on other pitches.
Campsite COVID Safety Rules
These rules are in addition to our normal terms and rules
1. Use of the campsite is at your own risk. Each of us must be responsible for our own safety and protective hygiene measures.
2. Current Government rules and social distancing guidelines must be followed at all times throughout the entire site.
3. To help you apply Government rules and guidelines, consider your motorhome and marked pitch to be your house and garden.
4. You may not enter or cross another party's pitch without their specific consent or invitation and must not touch or use any items that belong to another party.
5. Pets must be kept on a short enough leash
at all times
to prevent them from straying onto another pitch.
6. Every member of your party, including children, must follow these
campsite COVID safety rules.
These rules are in place to help keep us all safe whilst we enjoy our camping trip but
they are not requests
.
Breaking these rules will put others at risk and anyone doing so may be asked to leave the campsite.
Please ask a Steward if you have any questions or need clarification on anything.
Thank you all for helping to keep us as COVID safe as possible.
This camp is limited to 70 motorhomes and no tents are allowed.
How To Book
Please reply to this thread stating:
How many nights you would like to attend (£12 per vehicle per night)
What day you will be arriving on
How To Pay
Please put the exact payment in a sealed envelope then write your username, vehicle registration number and the payment amount on the envelope. This will be collected on arrival so please have it ready.
Last edited: