Just come back from 3.5 weeks in France, 2000 miles down the west coast, across the pyrenees, and back up in our tiny NV200, mostly wild and a few sites, and all on D roads or below - so barely saw other cars!
Van did really well and taking usage to >200 days which isn't bad. And despite being tiny, we were able to pack (in cupboards, not in the open/floor): chairs; sun-loungers; wetsuits; body armour, bike helmets and gear; running gear; beach towels and umbrella; BBQ and charcoal, and lots of food and drink, clothes, washing line, electronics galore. Came back with 30 bottles of wine or so.
Water/waste was fine, and even able to shower
(Note: whilst we'd use shower wild, this was on a municipal site. They had token showers we bought tokens for, then went for a hot n sweaty bike ride and needed a shower, only to find they took the tokens and gave no water and the Marie was closed. So didn't feel guilty as we did pay!)
Some pics of where we were able to say - and in one instance sneaking under a 1.8m barrier (no signs or issues against overnight parking).
Interestingly, due to heat-wave we parked in shade, and found the solar was worse under trees and took less charge than if the UK grey skies! Never ran out of power and 12v (compressor) fridge ran well and kept the beer always cool.
Small isn't for everyone (and we are small ourselves!) but shows size isn't a deciding factor for fun.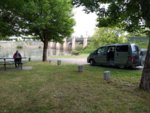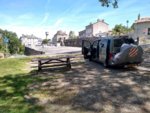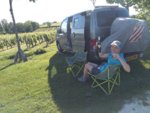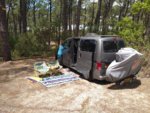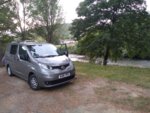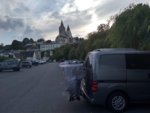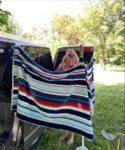 Other pics here - but nothing exciting
https://photos.app.goo.gl/SFiqtc2GojvbwrRW8