As most of you know, I like my numbers
(shame they don't come up on the Lotto ever though!)
And like most people with Solar Setups, I wonder how well it is working. You can see the harvesting going up and down, but that is dependant on the weather and location.
This map tells you what the "solar irradiation" to expect for your location as an annual average.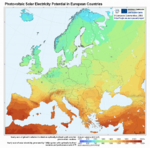 But what is it for a given time and how does it affect your solar charging on a day-to-day basis?
Well, my Weather Station stopped working ages ago, so when I got round to it, I decided to replace it with one that is always connected to the internet AND logs the solar irradiation as well
This is my 'irradiation' for today: (top number is irradiation, bottom is the UV index)

and the solar yield for today so far: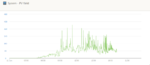 Been very cloudy today, so the yield has been very inconsistant, but there is a good correlation between the two bits of info.
For example, what should have been a peak harvesting time between noon and 1PM was actually very poor, but when you look at the irradiation chart, that dropped dramatically around that time so clearly the explanation for it. It will be especially interesting to see on a cloudless day I think.
Just thought I would share this with anyone who is curious about how well their solar is working - and why they are not harvesting as much as they think they should. This kind of info can help either confirm the reason for it, or maybe confirm they DO have a problem? (of course the other aspect to consider is if the batteries are near fully charged that will cut the charging as well so the comparision is best done when the batteries are in a position to take whatever the solar controller is able to throw at it)
Last edited: