I've always enjoyed cooking (it's the closest I get to physics, chemistry and biochemistry these days) and have recently got into bread making. So far I've been focusing on sourdough bread and this is my latest loaf with pumpkin and sunflower seeds: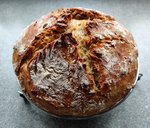 I got a taste for sourdough bread pretty much as the Berlin wall was breached and I spent many years travelling to and from and living in the former GDR. Frankly the 'sourdough' bread sold in supermarkets here isn't the real deal - it generally has conventional baker's yeast in it so that the all-important slow rise is by-passed and costs are cut. Sourdough bread made in Germany (and, of course, by artisan British bakers) is still made in the traditional way and, in my view, is well worth the extra cost.
My next adventure will be into Aussie Damper. Like soda bread it doesn't use yeast but depends on bicarbonate of soda for the rise. I'll be experimenting with self raising flour initially. I reckon this will make it a quick and easy loaf to make in the Moho. Australians often make this kind of bread when cooking on a campfire.
Then it'll be a foray into Irish-style soda bread, which again uses bicarbonate of soda instead of yeast but also an acid to generate carbon dioxide and so cause the loaf to rise.
Any other bread fans out there in our community?
Colin