Referring back to the small sourdough loaves in post #337:
The first loaf didn't sit still long enough to be photographed but here's the second one: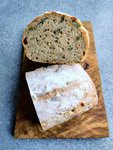 It's really tasty, the texture is 'tight' and moist - and suits me very well indeed. This evening it accompanied some homemade broccoli, potato and celery soup with super-mature cheddar cheese.
Because I deserved it.
Colin