Without Fun Guys of all sorts we wouldn't be here at all so I thought that a thread dedicated to these marvels of the eukaryotes would be recognition for everything they do - both good and bad.
The yeasts contribute to our beer and bread..........etc, etc.
Other Fun Guys break down and help recycle organic matter, provide us with drugs .......... and occasionally rather tasty morsels.
From now until the end of the year is probably the best time to see the fruiting bodies that some Fun Guys have been busy preparing for our enjoyment.
So this is the thread to contribute your photos (most definitely!), memories and stories of encounters with these wonders of Mother Nature as you potter around on foot, bike or Moho.
I'll kick off with this example adjacent to Stonehenge this morning: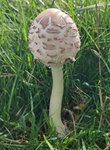 I think it's a young Parasol - and if it is, I'll be collecting it and some of it's neighbours for breakfast when I return to the Drove Road next week.
Colin