The Good News
I think I mentioned a while back that I'd installed an inverter in our van to run our microwave and toaster and was in the process of installing a solar panel to keep the leisure batteries topped up.
We've just been off on our first trip since then and given the setup a proper test and it performed well using the microwave in the evening, watching telly all evening, plus diesel heater, then toaster in the morning. Ran like this for three days with no problems. And, it was pretty dull wet weather.
Happy days!
The Bad News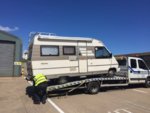 On our way home cruising up the A9 with Forrest running like a good'n there was a very expensive sounding bang, clatter, clatter, clatter from the engine and we coasted to a halt. Turning the engine over there is no compression. I rather suspect that the cam belt has gone.
The recovery home was a bit of a pantomime that I'll not go into here but at least Forrest is at a local garage now (well given where we live, relatively local). I dread to think what the repairs will cost.
But the inverter/solar panel setup works great