Firstly, this is a message with a
GEEK ALERT
Warning!
I got a message from Victron about an update to their Venus OS (which runs on the Venus GX, Color Control GX and also can run on the Raspberry Pi).
For anyone using Victron Kit, especially a Multiplus, this has some very good features added and I would recommend you update
A couple of features I have been after ....
Enhanced Control of the Multiplus.
there is a physical switch on the Multiplus that allows you to set it to On, Off, or Charger Only. What is missing is the ability to set it to Inverter Only. If you use the VE.Bus Smart Dongle, you have that option (via the Bluetooth Phone App), but not if you use the more advanced Venus Units. Now finally we Venus users can have Inverter Only option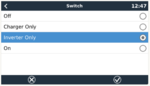 If you don't have a Multiplus, you may wonder why you would want this option, but believe me, it makes a difference and is useful (it saves having to go out and disconnect the mains lead for one!)
Temperature Sensor Sharing
Upto now, even if you had a mains Victron Charger with a battery temperature sensor, you would still need to add a SBS (Smart Battery Sense) device if you wanted to have your Victron MPPT Controller adapt for battery temp - and the MPPT Controller would also need to be bluetooth as that is how the two network.
Now a single Temp Sensor can be shared between different charging devices. From the updated CCGX Manual
4.4.3 Shared Temperature Sense (STS)
​
Select the temperature sensor to use; and the GX device will send the measured battery temperature to the Inverter/charger system as well as all connected Solar Chargers.​
Selectable sources for the battery temperature are:​
BMV-702 battery monitor
BMV-712 battery monitor
Lynx Shunt VE.Can battery monitors
Temperature inputs on a Venus GX (and same for other GX devices that have a temperature input)
Multi/Quattro inverter/charger

Solar Chargers (if fitted with a temperature sensor)
Shared Voltage Sensing
The same features are now available with Voltage Sense Sharing. If you didn't have a SBS or a bluetooth enabled BMV (or a Bluetooth MPPT) then you couldn't provide the MPPT with a more accurate Battery Voltage. Now you can use any BMVs Voltage data to send to a MPPT Controller via the VE.Direct connection using the Venus system.
4.4.2 Shared Voltage Sense (SVS)​
​
Works with VE.Bus devices and VE.Direct Solar Chargers.
​
The system automatically selects the best available voltage measurement. It will use the voltage from the BMS or a BMV battery monitor, if possible, otherwise it will use the battery voltage reported by the VE.Bus system.
​
The voltage displayed on the GUI reflects the same voltage measurement.
​
Shared Voltage Sense (SVS) is by default enabled when DVCC is enabled. It can be disabled with a switch in the Settings → System Setup menu​
I think these updates will mean the long-awaited update to have mutliple MPPT Controllers communicating with each other and working together on a single battery bank should be very close as (I think) some of the key foundations for that are now in place.
And this last one is maybe 9/10 on the Geek Scale ....
Solar Irradiation
Upto now there has been no way to include solar irradiation data into the Victron VRM system. Why would you want this? It can be a very good way to optimize the positioning of your solar panels as well as monitoring how well they are performing relative to the actual light level available. For a motorhome with solar, and especially one with adjustable panels, having a system that has integrated irradiance info in the system makes it easier and quicker to setup initially and analyze later
For example, how does this day compare to what could be possible?

The way I have been working this out is using the data from my weather station (for example for the day above ...)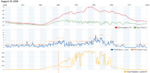 But two totally different systems and it would be a pain to combine the info on a regular basis.
But now Victron have added support for an irradiance monitor which will map in directly
So you can fit a unit like this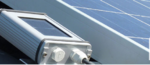 in line with your panels and have it tilt if your panels tilt, etc, and provide info as shown below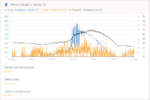 I think I know what I might get for Christmas
Info from Victron on the stuff above (and more updates I haven't mentioned) is here -
https://www.victronenergy.com/blog/2019/12/11/venus-os-v2-40-nmea2000-out-solar-irradiance-and-more/