I bought Phils old Batteries to give myself increased capacity and so have my original batteries spare and available for sale
They are the
12V Leoch Xtreme 110ah AGM Leisure Battery (XR1750) NCC Class A
(see here -
https://www.alpha-batteries.co.uk/12v-xtreme-110ah-agm-leisure-battery-xr1750/
)
Some Blurb ....
Range Information
12V 110Ah fit-and-forget AGM lead-acid battery for multiple applications (LOW-FIT). Also suitable for use as a starter battery (dual-purpose) – from Leoch's Xtreme series
Ideal for Boats, Caravans with movers and motorhomes plus many more deep cycle applications.
Manufactured by Leoch - One of the worlds largest producers of AGM Batteries
NCC Approved class A battery for the most demanding of leisure applications
The Xtreme series is an exciting and striking-looking premium AGM collection. Xtreme is special in that it is dual-purpose – the batteries in this range are particularly excellent for deep cycling, but can also be used as starter batteries. Xtreme batteries are also suitable for use in vehicles that utilise stop-start systems.
I have actually also got one fitted as a Starter Battery as per the above note.
These are 110Ah Batteries at the C100 rating and 95Ah at the C20 Rating.
Bought in October 2017, so around 18 months old.
These Batteries are proper heavy duty items with a 4 year warranty and are rated at 600 Recharge Cycles from 50% DoD. As you probably know, I intensely monitor my electrical system and I know that these batteries have done just 19 Cycles out of that 600 allowance since fitting them and have been perfectly balanced in use (routinely checked to confirm since fitting) and still hold the same capacity as when I bought them.
I have 4 of these, all purchased at the same time (one of them was provided in a different style for some reason in terms of battery shell, but it is still the same spec and delivered at the same time).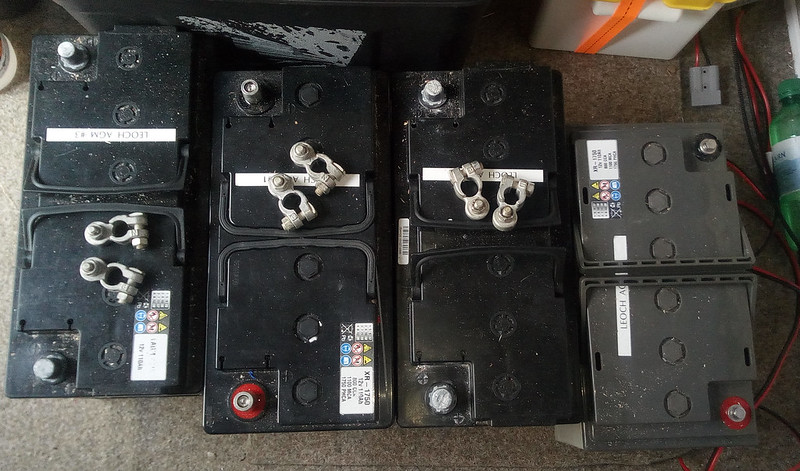 IMG_20190515_144200
by
David
, on Flickr
Because they were all bought together and have been used together always, they can be used in groups together if you are after bigger capacities, or just on their own if 110Ah if enough.
Standard Alpha Batteries price is £139.99. I am after £80 for each.
I
ncluded in the price are the battery post terminals as shown in the photo above.