There have been a few posts about battery temps and do they need insulating against cold, and if you do, will they overheat when in use?
Well, I needed to put a good charge into my batteries today as they went below 40% SoC and thought I would share the temp change as I put in around 320Ah back into the battery bank in just over 4 hours
My Batteries are enclosed in a plywood box, with ply on the bottom, all 4 sides and with a plywood top. The top has some ventilation holes and the front few inches are open, mainly to allow simple cabling.
(photo below shows box before top fitted)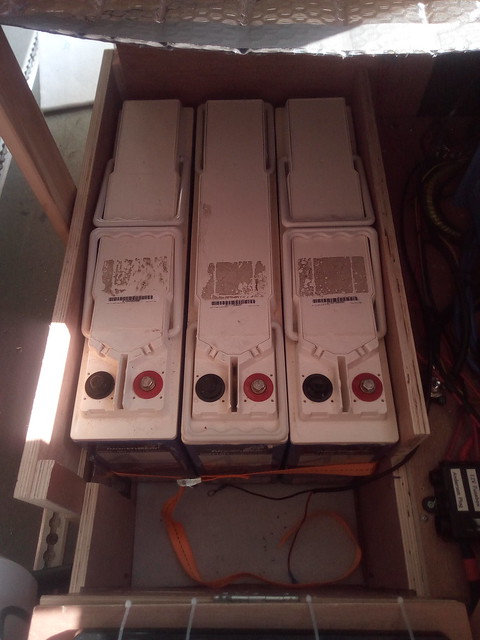 Battery Box
by
David
, on Flickr
So Graphs below show as the SoC increases from 40% to 67% in about 2 hours, there was a pretty consistent average 100A going into the batteries. In that time, the battery started off at 7C and two hours later, it reached 14C (so increased 7 Celcius).
I turned the Charger off two hours later, by which time the SoC had reached 83% and 320Ah had gone into the battery. By this time, the battery had reached a peak of 18C. As the charge current started to reduce, the battery temperature increase slowed down (going up 4C in the last two hours compared to 7C in the first two hours).
Here are the graphs...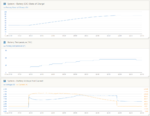 Not got any real conclusions from the above, but you don't see a really big increase in temperature and I would say it is not something to be concerned about