Hi,
We have recently joined here and have already joined in with a number of discussions.
To introduce ourselves further we are Guy & Michele. Almost empty nesters with 2 uni age kids and another recently returned and a willing house sitter ?.
We have motorhomed for the last 7 years mostly with a bunk bed and overcab coach built which was unfortunately stolen last year which rounded off a tumultuous few months for us. We now have our "You Only Live Once Bus". - AKA YOLO BUS. A Bavaria island bed A class. We love weekends away in The UK but like many we prefer the freedom of mainland Europe. You can also find us on Twitter @guywhite70 & @the_YOLObus.
Looking forward to learning lots and sharing experiences and adventures.
Guy & Michele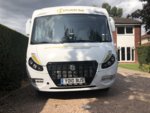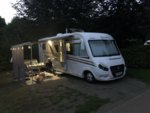 Last edited: