I thought I would post a little picture to show a B2B Charger (exciting huh!)
But what IS interesting is that this B2B - An Ablemail 30A Charger - is a very nice tidy fit within the battery bay of the van. Thought this may be of interest for anyone who was maybe wondering where they could fit a B2B if they upgrades from a VSR.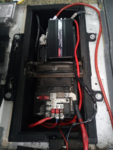 The above is a picture I took today of a partially installed B2B. The Charger drops in nicely just below the battery -ve post and the only adjustment needed was a little tweak to the quick-release connector on the -ve post. On the +ve end, there is a spare fuse connection just waiting to be used (not sure if all vans have that but think they might?)
The owner added a heat-deflector pad under the charger which is a good idea but these chargers don't run very hot anyway.