Please show the sourdough when cut have had good and bad results for no apparent reason looking for holes in those splendid looking loafs
This is the loaf I made yesterday, showing the inside: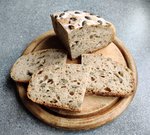 The holes can be a bit variable at this time of the year. I think this is because it's more difficult to keep the temperature during rising and proving the same from loaf to loaf.
Hopefully Sue (Moonshadow) will be along soon to offer advice - she's been making sourdough for some time and is far more knowledgeable than me.
Colin